What we do
Enquire Today
Your enquiry has been sent to us. We will be in touch with you as soon as possible.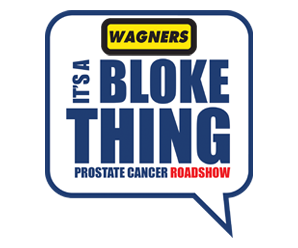 Part of our fundraising efforts are spent to educate men and women in rural Australia about prostate cancer. The Wagners It's a Bloke Thing Prostate Cancer Roadshow visits over 65 towns throughout regional Queensland annually, covering over 25,000km.  Our goal is to raise the publics 'brand awareness' for prostate cancer, its detection, its treatment and the need for a program that offers support to men living with prostate cancer.  
The program is presented in general community forums and workplaces – some businesses we have presented to include Glencore Mine, New Hope Group, Wagners and FK Gardner and Sons.
Our education roadshow is funded by the It's a Bloke Thing Foundation and we rely on the support of local businesses to continue to develop the program – any support is greatly appreciated.
REVIEWS:
That was an awesome Talk and I know everyone got a lot out of it.  I am Booked in for a PSA at 8am tomorrow when I get home. Just passing on my appreciation.
Your presentation was by far one of the best we have ever had here on site being very informative, down to earth and able to really connect with all crew members. For any presentation to keep the crew talking about the topic all day, especially this topic, is no small feat. Hope fully you can keep up the great work and continue to connect with us, the most stubborn of genders, on such a touchy subject.
I'd like to say thank you very much for your recent visit to Burdekin Shire Council staff. I have had so much positive feedback from staff, with some saying they have made appointments and also been to appointments, also guys following up on their scores. 
I just wanted to let you know that the presentation about prostate cancer was greatly appreciated. The presentation dismissed a lot of myths about the disease and highlighted the important things like the PSA test, getting it done every year and creating a baseline to compare your score. It was a very worthwhile presentation. 
If you would like to book the Wagners It's a Bloke Thing Prostate Cancer Roadshow to visit your business or if you would like to attend a session please contact our Education Program Facilitator Ruth Logan -
Ph: 0417 739 166
Email: 

ruth@itsablokething.com.au
MAKE A DATE TO CHECK YOUR PROSTATE
Yeppoon - 23rd - 25th August 2018
Gladstone - 25th August 2018
Oakey - 13th September 2018
Maryborough & Harvey Bay - 16th - 23rd September 2018
Brisbane - 2nd October 2018
Jeebropilly - 8th - 15th October 2018
Pittsworth - 15th October 2018
Oakey - 17th October 2018
Jeebropilly - 22nd October 2018
Enoggera - 24th October 2018
Goombungee - 25th October 2018
Rockhampton - 28th October - 1st November 2018